BRIEF OVERVIEW: Looks like the Galapagos shadow is taking a bigger toll on this swell direction than anticipated for Panama. Nonetheless, expect better surf to still show for the final day.
SUNDAY (12th) – Happy Mother's Day!
SWELL/SURF: SW swell (225-205 deg) builds in further and peaks late in the day. Waves are mainly around the chest-head high zone (4-5′), with occasional overhead sets (6'+) showing during the more favorable tide windows (strongest late in the day).
WIND/WEATHER: Calm to light/variable offshore wind in the morning, with a moderate SW'erly onshore breeze developing in the afternoon. Partly to mostly cloudy skies.
TIDES: 8.5′ high tide at 5:14am, 1′ low tide at 11:14am, 8.8′ high tide at 5:19pm.
Figure 1 – The chart below is the LOLA Forecast Dashboard for Panama, which shows the raw swell heights of the new SW that is expected to build in over the last few days of the event (10th-12th). 
Figure 2 – The LOLA swell graphic below displays the new approaching SW swell train as it moves into the region over the next few days, just in time for the finals!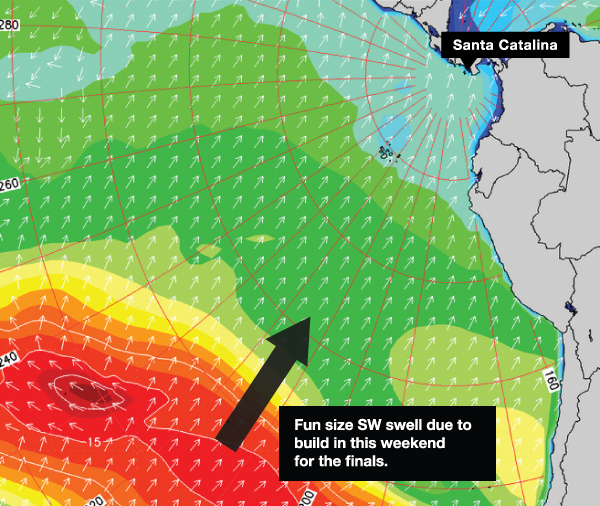 This forecast is provided as part of an event consulting agreement recognizing Surfline as the official forecaster for the ISA World Surfing Games. Your organization is free to publish this forecast information and release it to the press under the condition that Surfline is credited as the source of the forecast information.
To learn more about Surfline's Surf Consulting services click here.
To learn more about Surfline's Forecast and Science Team click here.